Clear Arch Health is conducting a pilot utilizing a tablet-based Personal Emergency Response System (PERS), via its PERS Advantage program, to deliver social determinants of health (SDOH) services to plan members. Click here to learn more.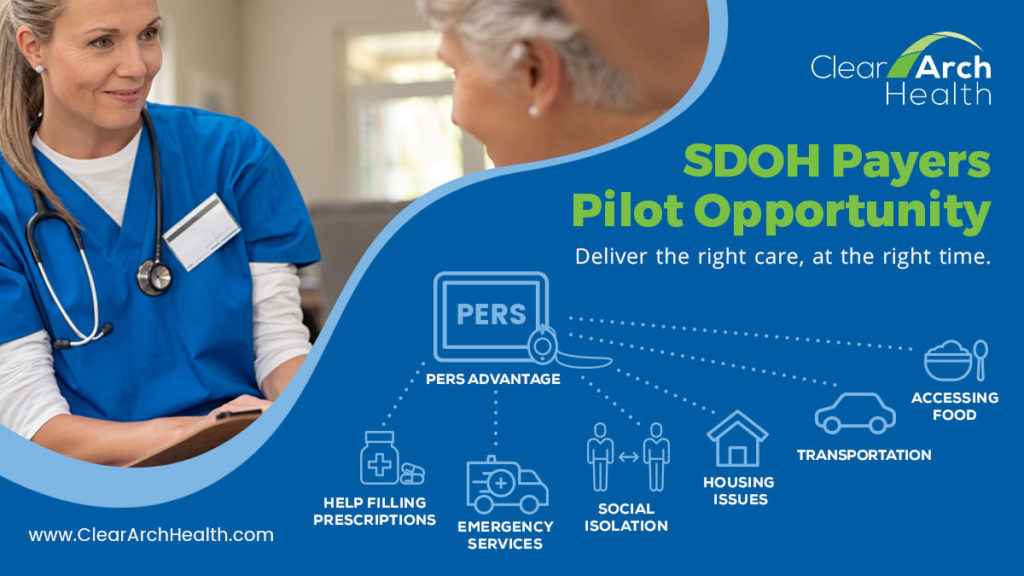 At Clear Arch Health, we understand the need to deliver high quality, affordable care to your members, while reducing your overall costs. As a leading provider of remote patient monitoring (RPM) and mobile personal emergency response system (mPERS) technology, we can help you achieve that. And, we are here to assist you every step of the way.
Our easy to adopt, turn-key solutions connect healthcare providers, payers and home care agencies to their patients, members and clients. Through our unique RPM offering, we can support your existing program or help you create a new program to care for members who require complex medical needs. By offering connected health devices, you can provide members with the health care resources they need. 
At Clear Arch Health, our flexible programs are customized to meet your unique organizational needs and we simplify program delivery, to enable you to focus on what you do best – provide quality, connected care to your members.

So, whether you want a PERS program, an RPM program or a combined PERS + RPM program – we have a solution for you. Let us help you create an overall exceptional experience for members. Together, we can achieve desired outcomes through enhanced oversight and reduced hospitalizations and readmissions.
Triple your aim with RPM. Improve health. Improve care. Reduce costs.
Contact us today!
To speak with a member from our team, please fill out the form below. By submitting this form, you agree to give your electronically signed prior express written consent and authorization to be contacted by or on behalf of Clear Arch Health/MobileHelp on your wireless and/or other phone numbers you provided above, including by SMS/texts, autodialed, pre-recorded and/or artificial voice calls, for the marketing of Clear Arch Health/MobileHelp goods or services even if you are on the federal, any state's and/or Clear Arch Health/MobileHelp Do-Not-Call registry or list and for all other purposes. You understand that your consent is not required to purchase Clear Arch Health/MobileHelp goods or services.