Clear Advantage
Personal Emergency Response System (PERS) plus Social Determinants of Health (SDoH) Services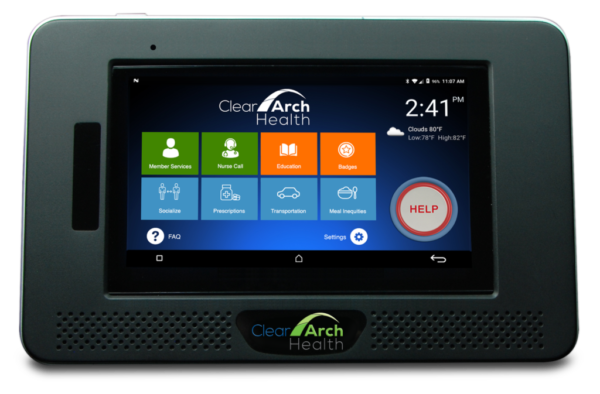 Clear Advantage gives Health Plan Members a Personal Response System that Focuses on Health
Personal Emergency Response
Clear Advantage is a tablet-based personal emergency response system (PERS) that provides around the clock monitoring. With an easy to use touchscreen interface and engaging features, it is the perfect choice for a health plan Medicare Advantage benefit program.
SDoH – Addressing Barriers to Care
In addition to PERS services, Clear Advantage connects members to needed personal health and social services, ensuring proper care when it may have otherwise been unavailable. By selecting the specific social determinant of health (SDoH) need on the display, members can be connected to social services to get access to much needed resources such as help accessing food or transportation, assistance with housing issues and loneliness & social isolation.
By complementing your organization's existing nurse line, these services can reduce or avoid emergency room visits by delivering the right care, at the right time.
Delivering the Right Care, at the Right Time.
Service Features
24/7 Emergency Response monitoring

Optional Fall Detection

Enhanced protocols connect members to needed personal health and social services

Wellness support

Health education content

Disease specific/individualized protocols

Physician Appointment follow-ups

Care coordination

Actionable health surveys

Member communications/announcements

Direct access to existing nurse line (if applicable)

Optional Remote Patient Monitoring (RPM)
Product Features
Easy-to-Use Touch Screen Interface

Kick-stand for easy viewing

Waterproof wearable help buttons

On screen white labeling

Customized Tiles connect members to appropriate contact based on need

Voice guidance & bi-directional interaction capability

Plug & Play Installation

No Landline Required
Interested in Clear Advantage?
To speak with a member from our team, please complete the form below:
By submitting this form, you agree to give your electronically signed prior express written consent and authorization to be contacted by or on behalf of Clear Arch Health/MobileHelp on your wireless and/or other phone numbers you provided below, including by SMS/texts, autodialed, pre-recorded and/or artificial voice calls, for the marketing of Clear Arch Health/MobileHelpgoods or services even if you are on the federal, any state's and/or Clear Arch Health/MobileHelp Do-Not-Call registry or list and for all other purposes. You understand that your consent is not required to purchase Clear Arch Health/MobileHelp goods or services.