Choose from two different form factors – touchscreen or traditional – for a system that works best for your patients or members.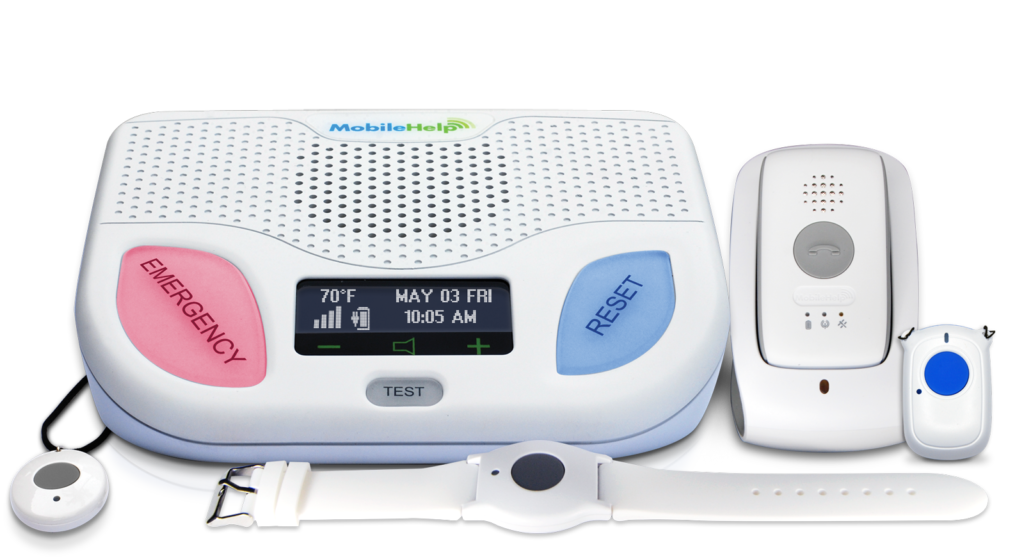 The Clear Arch Duo system offers advanced mobile Personal Emergency Response features which include the following:
Emergency Response: Help is just a button press away – 24/7/365 emergency monitoring. Our trained, US-based emergency response operators will know who you are and dispatch appropriate help.
Mobile Device: Get help where ever you go outside the home on the AT&T cellular system.* GPS tracking allows our operators to know your location and get help to you in an emergency.
Battery Backup: Keeps the system working for up to 30 hours during a power outage.
Help Button: A waterproof neck pendant or wrist button is included.
Fall Button™/Activity tracking: The optional Fall Button automatically detects falls and initiates an emergency call, even when the user cannot press the button.* Fall Button also allows users to track activity levels on a daily, weekly, monthly and even yearly basis.
Flexible Configuration: This flexible platform can be configured with added features or presented as a basic offering for patients who prefer a simplified user experience.
Virtual Video Visits: Giving patients and healthcare providers the capability to interact by video is a key component of the tablet's telehealth aspects. Patients can also use this function to connect with loved ones and other caregivers.
Medication reminders: Allows customers along with their authorized caregivers or family members to manage their medications, with the capability to add new prescription information, set and change medication schedules, and push out a medication reminder alert.
Messaging: The tablet features an easy-to-use messaging interface, so users can connect with loves ones by SMS or e-mail using one simple streamlined application.
Educational resources: Providing access to information, from disease-specific resources to broad-scale nutritional and exercise materials, the tablet allows consumers to acquire personal libraries relevant to their own health and wellness.
*Service availability and access/coverage on the cellular network is not available everywhere and at all times. Fall Button™ does not detect 100% of falls. If able, users should always push their help button when they need assistance. Fall Button™ is not intended to replace a caregiver for users dealing with serious health issues.  Patented technology.