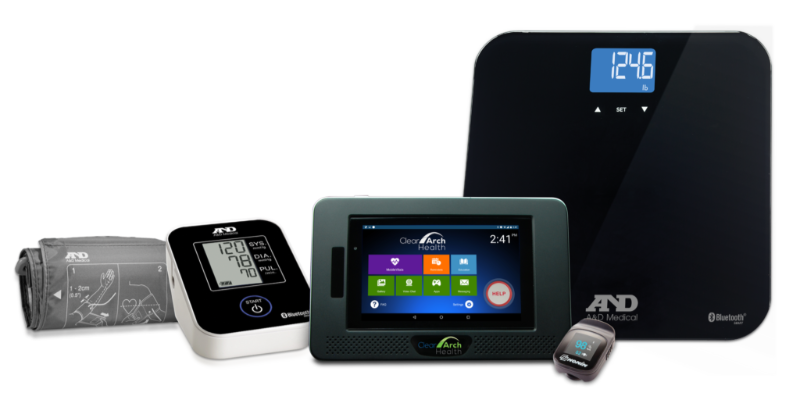 The Clear Arch Touch system gives both providers and patients a new suite of benefits, which include the following:
RPM Program Support: Clear Arch Health has built an ecosystem of services that support RPM programs of all sizes – from small clinical settings to large-scale health networks. Clinical oversight, patient triage, reporting, inventory management and door-to-door shipping logistics are available to support healthcare organizations as they implement or expand RPM programs.
Remote Patient Monitoring: Tracking vitals remotely using reliable wireless health monitoring devices (blood pressure monitor, pulse oximeter, weight scale and glucose monitoring device).
Virtual Video Visits: Giving patients and healthcare providers the capability to interact by video is a key component of the tablet's telehealth aspects. Patients can also use this function to connect with loved ones and other caregivers.
Medication reminders: Allows customers along with their authorized caregivers or family members to manage their medications, with the capability to add new prescription information, set and change medication schedules, and push out a medication reminder alert.
Emergency Response: Help is just a button press away – 24/7/365 emergency monitoring. Our trained, US-based emergency response operators will know who you are and dispatch appropriate help.
Fall Button™/Activity tracking: The optional Fall Button automatically detects falls*, and also allows users to track activity levels on a daily, weekly, monthly and even yearly basis. Tracking activity levels side-by-side with vital signs such as weight and blood pressure allows consumers to truly monitor the health-related benefits of increased activity levels.
Messaging: The tablet features an easy-to-use messaging interface, so users can connect with loves ones by SMS or e-mail using one simple streamlined application.
Educational resources: Providing access to information, from disease-specific resources to broad-scale nutritional and exercise materials, the tablet allows consumers to acquire personal libraries relevant to their own health and wellness.
Spanish Language Option: The platform supports Spanish language. Simply select Spanish on the patient enrollment form and all voice guidance will then be announced in Spanish and the patient profile is also annotated so that Spanish speaking nurses will be used when responding to alerts to blood pressure, weight, glucose, etc. Because enabling the language choices are web-based, there is no need to inventory equipment segregated by language.
*Fall Button™ does not detect 100% of falls. If able, users should always push their help button when they need assistance. Fall Button is not intended to replace a caregiver for users dealing with serious health issues. Patented technology.
Want to know more? Fill out the form below and we will contact you for a consultation. Or call 800-995-1854.