Clear Arch Health provides an array of devices to meet the needs of each individual patient. From our simplest PERS (Personal Emergency Response System) device that only requires a wall outlet to operate, to our more sophisticated RPM (Remote Patient Monitoring) tablet that is capable of monitoring blood pressure, weight, pulse oximetry, glucose, temperature, and spirometry. With the number of patients and the age of patients increasing in the current healthcare landscape, more and more clinicians are turning to data-driven patient engagement technologies. According to the American Hospital Association, participatory health can ultimately drive a healthier population through prevention and wellness. Using technology for patient monitoring results in convenience of care and increase in patient involvement.
Mobile Communications
Our most basic system, the MobileHelp Classic, provides cellular in-home emergency response with help that is just a button press away, and does not require a landline. The only setup required is plugging the system into a wall outlet. Similar to the MobileHelp Classic is our MobileHelp Solo system that includes a two-way communication device for seniors on the go. Easy set up and operation make these devices top tier for seniors today. As stated by this article by the NCOA, one in four Americans aged 65+ falls each year resulting in more than 2.8 million injuries treated in emergency departments annually, including over 800,000 hospitalizations and more than 27,000 deaths. With either of these devices, patients increase the safety of their daily activities.
Many people today with chronic illnesses and other diseases require daily health monitoring. Our RPM systems make this easier for patients, clinicians, and families. With RPM, patients cut down travel time for doctor appointments, and clinicians have easier access to the logs of their patients' vitals. According to a case study in the Journal of the American College of Cardiology, RPM empowers patients to be more engaged and involved with their treatment plan, which often leads to better treatment adherence, and, as a result, outcomes. With patients monitoring their vitals daily, this results in decline in hospital readmissions and ER visits.
Remote Patient Monitoring & PERS
With the option to use either the MobileVitals Classic base station or the MobileVitals Touch tablet, there is a solution for everyone. Each system has the ability to monitor multiple vitals remotely and act as a PERS. However, the MobileVitals Touch does have a few more capabilities, such as virtual video visits, instant messaging, and educational tools. Virtual video visits can be scheduled with physicians or simply used to connect with loved ones. There is also an SMS or e-mail feature that uses one application. The educational tools can be modified for the user to include videos or articles about specific health conditions.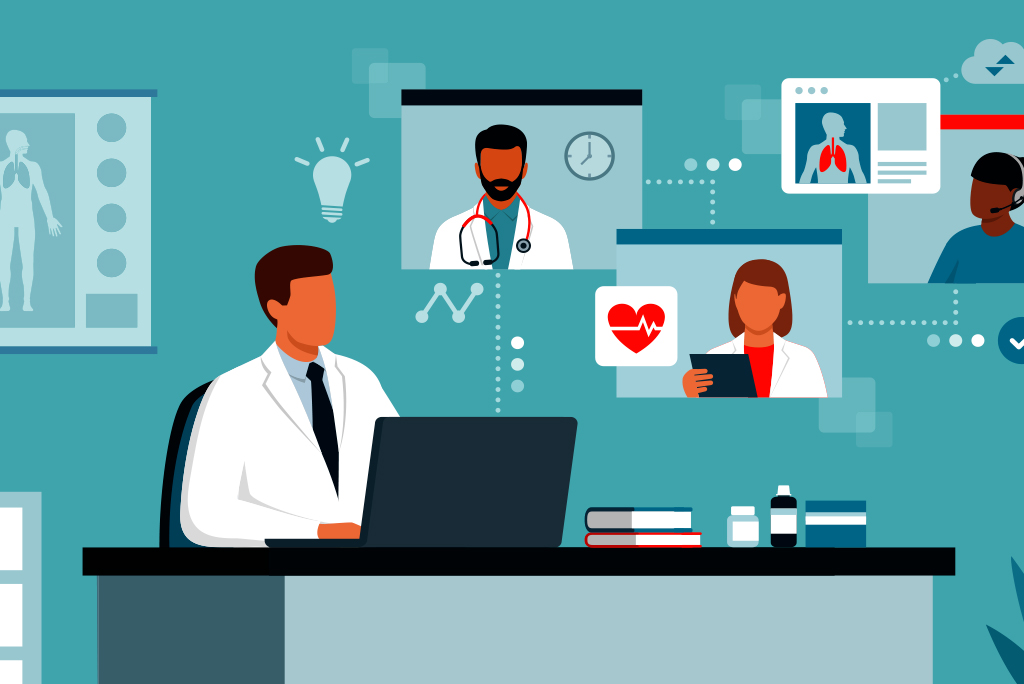 Along with all the services and monitoring provided via the MobileVitals Touch, we are also able to send surveys directly to the patient's device. These can be satisfaction surveys or even screening tools for daily health monitoring, and certain surveys can be used to identify shortfalls in patient care such as health literacy and understanding of their treatment plan. Clinicians are given access to survey results along with daily vital readings. Daily vital readings can be integrated with an EHR or simply viewed via the clinical dashboard. Any variance deemed unfavorable (sudden weight loss, high bp, etc) in the daily vitals, triggers an automatic alert to the clinician team.
Social Determinants Of Health
A newer solution offered by Clear Arch Health is the Clear Advantage program. By providing patients with a tablet based PERS unit, they are given access to around the clock monitoring and services that would otherwise be unreachable because of SDoH (Social Determinants of Health). According to this article, 4 of the main SDoH are geography, socioeconomic status, housing security, and educational attainment/health literacy. SDoH have a huge impact on patients living with chronic diseases.
Where a patient lives can affect all the other factors of SDoH. For example, in rural communities, patients face limited access to hospitals while being at higher risk for chronic illness, loneliness, and less access to health literacy. The Clear Advantage program is designed to compliment already existing nurse lines. With the touch of a button, patients can be connected to social services to receive transportation, access to food, and assistance with housing. There is also available assistance to services to combat loneliness and social isolation.
Understanding the factors necessary, for enhancing the layered approach for RPM & PERS Solutions to resolve SDoH factors in our population has placed Clear Arch Health at the forefront of the industry. To learn more about our suite of product solutions and services please click the button below for your company demo today.