Turn-key Solutions You and Your Patients Need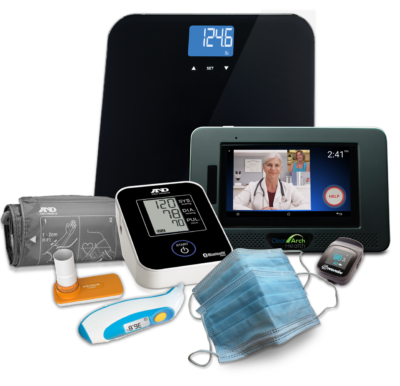 At Clear Arch Health, we provide easy to adopt, turn-key RPM and mPERS solutions to connect healthcare providers to their patients. Our flexible programs are customized to meet your unique organizational needs. And, by simplifying program delivery, we enable you and your clinicians to focus on what you do best – providing quality, connected care to your patients.
The healthcare market is rapidly evolving – healthcare costs continue to rise, aging populations continue to grow and chronic conditions have become increasingly prevalent. One thing remains constant – the need for innovative solutions to keep people aging in place. For hospitals and health systems, this can be challenging – as they are tasked with providing complex care with limited resources, while reducing routine costs simultaneously. For this reason, and remote patient monitoring (RPM) or "telehealth" is important to support hospital and health systems service lines. And, our solutions do just that.
Let us help you create a better experience for patients while protecting your staff. Together, we can achieve better patient outcomes through enhanced oversight and early intervention.
WITH REMOTE PATIENT MONITORING & PERS – HOSPITALS, PAYERS AND HEALTH SYSTEMS THRIVE.
There are many ways in which we can work together to deliver exceptional care.
Hello! Our team of business development executives have more than 20 years of experience in healthcare partner programs, including health plans, hospitals, home health agencies and home care organizations. Clear Arch Health – a branch of  MobileHelp offers partner programs for the company's healthcare division.
With CMS reimbursement for RPM, there is now more support for starting an RPM program. Clear Arch Health provides a simple, consultative approach. We can walk you through the process and answer your questions. Let us help you create an overall better experience for patients while protecting your staff.
Delivering the Right Care, at the Right Time.
Available CMS Codes for RPM Reimbursement
| | | |
| --- | --- | --- |
| Code | Description | Payment amount* |
| CPT 99453 | Initial; set-up and patient education on use of equipment. This is for the monitoring of parameter(s) such as respiratory flow rate, blood pressure, pulse oximetry, blood pressure). | $21.00, one-time fee |
| CPT 99454 | Device(s) supply with daily recording(s) or programmed alert(s) transmission, each 30 days | $55.63 – $74.25, monthly |
| CPT 99457 | Remote physiologic monitoring treatment management services, 20 minutes or more of clinical staff/physician/other qualified healthcare professional time. This code requires interactive communication with the patient/caregiver during the month. | $46.97 – $56.09, monthly |
*Payment amount (PFS) varies by locale

Clear Advantage gives Health Plan Members a Personal Response System that Focuses on Health
Personal Emergency Response
Clear Advantage is a tablet-based personal emergency response system (PERS) that provides around the clock monitoring. With an easy to use touchscreen interface and engaging features, it is the perfect choice for a health plan Medicare Advantage benefit program.
SDoH – Addressing Barriers to Care
In addition to PERS services, Clear Advantage connects members to needed personal health and social services, ensuring proper care when it may have otherwise been unavailable. By selecting the specific social determinant of health (SDoH) need on the display, members can be connected to social services to get access to much needed resources such as help accessing food or transportation, assistance with housing issues and loneliness & social isolation.
Ready to start a telehealth program?
Interested in a pilot program?
Want to learn more about our solutions?
Please fill out the form below to speak with our team!
By submitting this form, you agree to our privacy policy.