As a communication technology partner, JACS Solutions specializes in providing highly secure and customized mobile devices that seamlessly integrate our partners' hardware, software, and accessories. Healthcare has been among JACS Solutions' top customer base since its inception in 2011. We have partnered with some of the world's leading medical device companies and helped them create custom-built mobile devices that complement the user experience and their medical devices.
Through our partnerships, we have learned that when it comes to creating an integrated healthcare solution with hardware, software, mobile, and medical components, there are a string of unique challenges that require unique solutions. These challenges are often related to making sure the result is HIPAA compliant, new and existing hardware and software are fully integrated, and product costs are competitive, often globally.
Over the years, as telehealth has gained momentum, especially for remote patient monitoring and chronic care management, we have witnessed innovative telehealth providers increasingly integrate mobile technologies into their solutions. The mobile connectivity and device capabilities such as the touch screen allow the providers to improve their customer experience with the latest and greatest technologies. But mobile technologies carry inherent risks involving data security and privacy. And when it comes to serving the needs of patients and physicians, such risks cannot afford to be overlooked.
We have also discovered that the traditional healthcare industry sometimes underestimates these mobile technology risks. Many assume that mobile devices built for the mass consumer market can meet their needs just fine. Unfortunately, they usually find out later that this is far from the truth.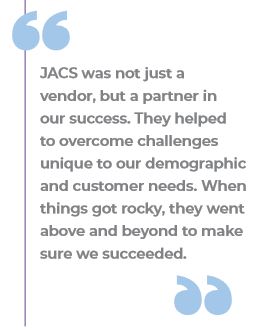 That's where JACS Solutions comes in. We treat our customers as partners and work closely and collaboratively with them to conceive, design, and build the final solution – just the way they want, with no compromises. Such was our experience with Clear Arch Health (CAH), a division of MobileHelp.
CAH had a clear vision of the customer experience for MobileVitals® Touch, a remote patient monitoring solution. They were keen on delivering an uncompromised customer experience with a highly secure platform. CAH also needed to integrate the tablet seamlessly with an existing base station already in use. Both presented challenges and the solution was to create a custom-built Android firmware on the tablet used for the app interface and to modify the tablet hardware to fit with the existing base station.
Through dedicated teamwork, JACS Solutions accomplished the tasks for CAH. To learn more about how CAH and JACS Solutions worked together to achieve their goals, please read the case study.