Chris Otto and David Taylor to Present at ATA 2018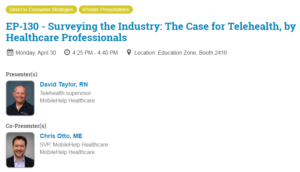 With its ability to address numerous issues for today's healthcare providers – from the need to reduce readmissions, engage patient populations, address long-term chronic care, and make care more accessible – telehealth represents one of the most promising technology solutions in the healthcare space.
Notwithstanding, the vast majority of healthcare providers have not been able to incorporate telehealth technologies – despite the desire to do so.
To better understand the pain points and roadblocks involved in using telehealth technology solutions, MobileHelp Healthcare recently reached out to healthcare providers with a comprehensive survey.
The results demonstrate that while the benefits of using telehealth are very clear to those in the provider space, the capability to invest in a new program or expand an existing one has significant challenges – from fiscal difficulties to personnel shortages.
Examining the results affords the opportunity to understand how those challenges can be addressed by products on the market today.
The Survey: Results Support Telehealth
The primary concerns among healthcare provider participants fell among five topic areas:
Increasing patient load
Retaining trained nursing staff
Readmission penalties
Patient satisfaction rates
Increasing operating costs.
More than 80 percent of the participants felt "increasing operating costs" was the biggest concern, followed by "retaining trained nursing staff" and "patient satisfaction rates."
When asked follow-up questions related to technology and its ability to help address the major areas of concern, healthcare providers offered the following feedback: While only 29 percent of respondents reported using technologies like remote patient monitoring (RPM) to ease the burden of the issues expressed in major areas of concern, more than 85 percent of respondents felt RPM could benefit their patients in multiple ways.
The results of the survey is underscored by other studies, which indicate technology – and telehealth specifically – has the potential to 1) reduce healthcare costs, 2) provide much needed support to staff, and 3) increase patient satisfaction for an ever-growing patient population.
Growing Telehealth Utilization – and Challenges to Address
The data collected by this survey reflect the healthcare providers' desire to utilize technology to 1) more fully understand patient conditions and status, 2) offer ongoing care to their patients outside the traditional clinical setting, and 3) provide their patients with supplementary tools.
To address these needs, this poster will explore how new consumer-facing technology solutions are providing patients with the benefits of traditional remote patient monitoring with additional aspects such as video visits or the ability to provide customized education related to specific disease states.
Following the reimbursable period, patients have the opportunity to keep the telehealth equipment and shift to monitoring their own vital signs – allowing healthcare providers to essentially step out of the clinical care process – while giving patients the tools they need to engage more fully in their own care in the long-term.
In addition, a medical alert can be incorporated, which allows patients to access emergency help if and when they need it – a key feature for patients moving outside the traditional clinical care environment.
Learning Objectives:
Upon completion, participants will be able to define the results of a recent survey conducted among healthcare providers around use and implementation of telehealth solutions;
Upon completion, participants will be able to understand how to invest in a new telehealth program or expand on an existing one — and potential program challenges.
Upon completion, participants will be able to discuss how telehealth challenges can be addressed by thinking about consumer-facing technology in new ways
Can't make the conference? Click the Contact Us Now button below.