Becker's Hospital Review Conference | Chicago, IL | April 3 - 6 2023
The 13th Annual Meeting of Becker's Hospital Review took place in April 2023 and offered numerous opportunities for attendees to engage in throught-provoking examinations into, and surrounding, value-based care, mHealth, healthcare costs, health equity and more.
All who joined came with curious minds and left with a clearer vision of actionable solutions that could be employed to achieve improvements in health-oriented organizations and the populations they serve.
Clear Arch Health was proud to be an exhibitor. We were also excited to take part in important explorations into using remote patient monitoring solutions to help transform healthcare, enhance workflow efficiency and address the financial challenges confronting care delivery.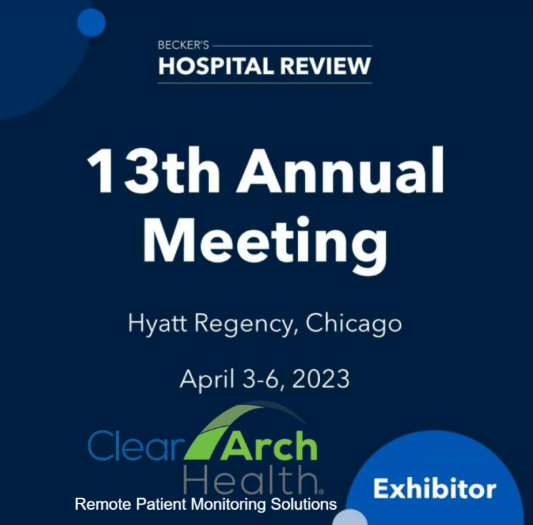 Let's keep talking, because your remote care patients deserve the very best in virtual healthcare services.
That's where Clear Arch Health comes in.
Please reach out to us to get more information on how we help to improve the care of patients who are living outside clinical environments, while empowering healthcare providers to achieve operational goals.