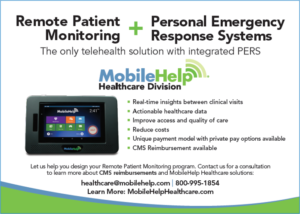 NAACOS Fall 2018 Conference
October 3 – 5 | Capital Hilton | Washington, D.C.
Stop by Table #35 to find out more about MobileHelp RPM Solutions.
Chris A. Otto, SVP, MobileHelp Healthcare and Jerriene Cordova, Director of Telehealth Programs, will be demonstrating the MobileVitals Touch Remote Patient Monitoring System, providing consultations and discussing CMS reimbursement opportunities.
Learn about the MobileHelp Advantage: Our low-upfront cost model does not require you to purchase end-user equipment and allows you to implement a scalable RPM program that can start delivering returns on your investment almost immediately:
     Continue to improve outcomes
     Reduce Costs
     Receive reimbursements for managing patients with chronic conditions
Can't make the conference? Click the Contact Us Now button below.