NOTE:  In December 2021, Clear Arch Health acquired Life Care Solutions (LCS), a division of Resideo.
Together, our telehealth and Remote Patient Monitoring (RPM) solutions enable daily remote health monitoring of seniors and at-risk patients facing chronic health conditions. The following article is content from LCS. 
Life Care Solutions was pleased to receive product feedback from seniors, aged 65-92 years old, who helped test a new user interface on our touchscreen remote patient monitor.
Participants graciously took time out of their day to to experience remote patient monitoring for the first time, while providing honest opinions while interacting with every menu and device.
Overall, all participants noted the design of the Genesis Touch User Interface looked extremely or very appealing. After taking a sample measurement, all participants noted they'd be very comfortable using the remote patient monitoring system as it was shown to them. All participants noted clear text, graphics, buttons, clear vocal commands, or clearly designed menus when interacting with the systems.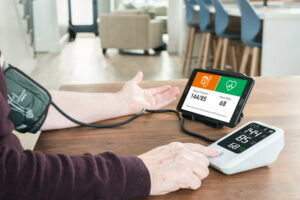 Testing also revealed a level of comfort with using connected mobile devices. All participants responded favorably to having easy access to Wi-Fi, and ownership of a smart mobile phone.
This is how Life Care Solutions designs — with a 360-degree view. Our Agile development process and mindset ensures multiple perspectives are built into our solution. We incorporate feedback from seniors about how they interact with the product and how the product fits into their home. Clinicians regularly provide feedback about workflows and enhancements.
Our engineers are keeping tabs on the latest technology developments and changes. The result: a product that works for everyone.