BOSTON – October 17, 2018 – MobileHelp® Healthcare, a leader in personal and enterprise healthcare technology solutions, today announced its SVP, Chris A. Otto, is presenting in two conference tracks at the 10th annual Connected Health Conference this week at the Seaport World Trade Center.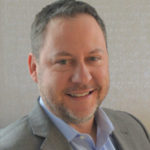 Mr. Otto will participate in the Parks Associates-hosted track Connected Health and IoT: Impact of Smart Home Solutions, joining the panel session titled, "Independent Living: The Role of the Smarter Home." Held on Wednesday, October 17, from 10:30-11:15 a.m., this session will explore the next generation of connected innovations for the home health market, including independent living solutions that have strong crossover connections with the smart home. Mr. Otto will share strategies for providers to work with patients and caregivers to deliver services that impact care outcomes.
In addition, Mr. Otto will present on his own in a special session titled, "Technology for the Future of Home Health," on the Demo Stage of the main exhibit floor on Thursday, October 18, from 1:30-1:45 p.m. This session will explore how home health agencies can use remote patient monitoring technology to provide continued support for patients – even after the traditional home health period has ended. Mr. Otto will demonstrate how implementing the novel concept of a "step-down" telehealth solution has been shown to aid in the transition from clinical oversight to a patient's ability to manage their own health, by sharing results from a recent VNA agency pilot program.
"We are pleased to be participating in the 2018 Connected Health Conference in such a robust way," said Mr. Otto. "We look forward to sharing the progress our healthcare provider partners have been able to make, through the application of connected health technology to support new models of care delivery."
This year's Connected Health Conference theme, Balancing Technology and the Human Element, explores the ways to bridge the gap between technology and the healthcare providers, patients and consumers who can benefit from connected health, by thoughtfully integrating these technologies in care delivery, wellness and daily living.
# # #
About MobileHelp Healthcare:
Headquartered in the Research Park at Florida Atlantic University, MobileHelp® Healthcare is a division of MobileHelp, a leading provider of mobile Personal Emergency Response Systems (PERS) and health management technology. MobileHelp Healthcare provides healthcare organizations with a full range of telehealth product and service solutions designed to achieve better patient outcomes through enhanced oversight and reduced readmission. For more information about MobileHelp Healthcare, please call 800-995-1854 or visit the company website at www.mobilehelphealthcare.com.