Congestive heart failure and/or heart failure (CHF, HF) alters the quality of a patient's life in a variety of ways, typically requiring specialty oversight with high-cost healthcare resources, such as urgent care, ER, and frequent hospitalizations. But it is also a medical condition which is preventable and treatable. Read on to learn how remote patient monitoring supports CHF/HF patients, as well as those suffering from hypertension and/or at risk of stroke and similar cardiovascular ailments.
According to the Centers for Disease Control and Prevention (CDC), heart disease continues to be the leading cause of death for men, women, and people of most racial and ethnic groups in the United States. Hypertension may contribute to heart disease and is additionally a major risk factor for a stroke.
Statistics tell us that approximately six and a half million adults in the U.S. are living with heart failure. But with proper medical treatment, patients living with heart failure can lead normal lifestyles.
It is important to note there is a technology solution available to address CHF/HF patient populations: Remote Patient Monitoring (RPM) not only improves patient care, and contributes to better outcomes, it can also benefit clinical decision making and scale to meet a range of patient care needs.
RPM has been shown to be a contributing factor in reducing hospital admissions, readmissions and the length of hospital stays for patients suffering cardiac events. In the United States, heart disease and stroke result in billions of dollars in healthcare costs every year. Remote Patient Monitoring is becoming more widely embraced as a viable tool for lowering healthcare costs and increasing the well-being of patients.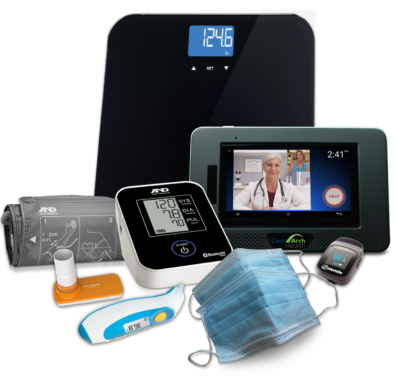 For hospitals or other healthcare organizations looking to lower readmissions and improve quality of life for CHF patients in the long-term, RPM offers the following benefits:
Data-driven decision making based on a real-time collection of patient vital signs between clinical visits alerts clinicians of patients suffering symptomatic exacerbations for timely intervention.

Enhanced scalability – This technology provides clinical teams the ability to manage larger populations and reach patients in rural settings. Alerts inform teams of priority patients, while reporting tools provide insight about groups of patients for greater workflow efficiency for an increased population reach.



Congestive Heart Failure, Stroke and Remote Patient Monitoring
Congestive heart failure is a chronic and potentially life-threatening condition which can contribute to high levels of hospitalizations, rehospitalizations, readmissions, and visits to the ER.
However, the growing acceptance of monitoring heart failure patients with remote patient monitoring tools (with the American Heart Association noting that "advances in RPM have the potential to allow patients and their caregivers to independently and seamlessly capture and share their health data electronically with clinicians from any location") supports how it can facilitate productive communications and valuable interactions between patients and care providers.
RPM allows patients who are at high risk for stroke, heart problems and similar cardiovascular issues to have access to quality care from the convenience of their homes. RPM allows patients to share health related information with providers and if their health status changes clinicians can provide virtual intervention.
This creates an environment of comfort that does not disrupt a patient's daily life which, in turn, makes it easier for them to comply with treatment protocols and engage more fully in the process of monitoring their own health.
The Clear Arch Health RPM Solution to Heart Care at Home
Clear Arch Health offers remote patient monitoring options that provide patients with easily accessible health-related educational content. Our RPM platform can deliver patient-specific information on a patient's particular health condition, including chronic heart failure. From within the comfort of their home environment, patients who are recovering and/or who are transitioning from acute care in the hospital to home care may obtain quality health monitoring via RPM devices. Vital signs are recorded, submitted and evaluated by care teams. Guidance and prompt adaptations in treatment may follow in a timely fashion if there are any changes in a patient's status.
Remote patient monitoring can offer access to virtual care for a host of acute illnesses (cancer, operation recovery, fall or stroke rehabilitation), and including recurrent/chronic conditions, such as diabetes, heart failure/congestive heart failure (HF/CHF), chronic obstructive pulmonary disorder (COPD), hypertension and more.
RPM can also play a vital role in facilitating post-stroke treatment and stroke rehab programs that are designed for specific patients who require health monitoring and supervision by medical personnel.
During #HeartMonth, Heart Failure Awareness Week (February), National Stroke Awareness Month (May) and all year long, Clear Arch Health provides the reliable solutions and industry expertise to help healthcare providers, hospitals, clinicians and others who serve patient populations to set up RPM programs that can add benefit along the full spectrum of chronic care.