Life Care Solutions Releases Updates to LifeStream Clinical Software and Genesis Touch Patient Tablet
As Centers for Medicare and Medicaid Services (CMS) increases its support for remote physiological monitoring (RPM), Life Care Solutions has updated its clinical dashboard with three new reports to make it easier to compile and report data required for CMS reimbursement*.
Setup Visit Report – Track setup and training meetings between a care provider and a patient, and show all patients eligible for reimbursement within the report period after 16 days of monitoring has occurred.
RPM Report – Report when patients have been actively monitored for at least 30 days.
Communications Report – Report the minutes of interactive communications logged between a care provider and a patient during a month or any other time period of your choice.
In addition, Life Care Solutions has updated the user interface for the Genesis Touch touchscreen tablet to make it easier for patients to use and submit their vitals. The enhancements include
Updated and larger fonts for better visibility
Clean white background for greater contrast, designed to meet accessibility guidelines
Larger menu buttons and navigation
Refreshed icons, color-coding and additional text labels
Customization of background images on the idle screen between monitoring sessions
Life Care Solutions has added more Bluetooth™ LE devices to its compatibility list. Visit this link for the complete list.
*Reference Current Procedural Terminology CPT® codes 99453, 99454 and 99457 for more detail. CPT® is a registered trademark of the American Medical Association.
A quick tour of the new patient interface. For more information, request a demo to speak with a Territory Manager.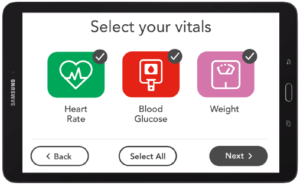 Although the monitor automatically walks patients through a health monitoring session at a scheduled time, patients may also retest.
Customize the display of the Genesis Touch telemonitor in between health monitoring sessions, while reminding patients of their next scheduled reading.
Larger easy-to-read telehealth monitor touchscreen buttons: Take your readings, watch video education and engage in video visits with care providers.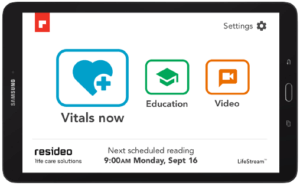 High contrast patient education displays over a white background, with audio prompts, on the Genesis Touch telemonitor to walk patients through taking a reading.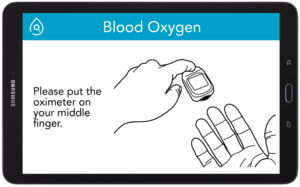 Easy to read health monitoring results on the Genesis Touch telemonitor.