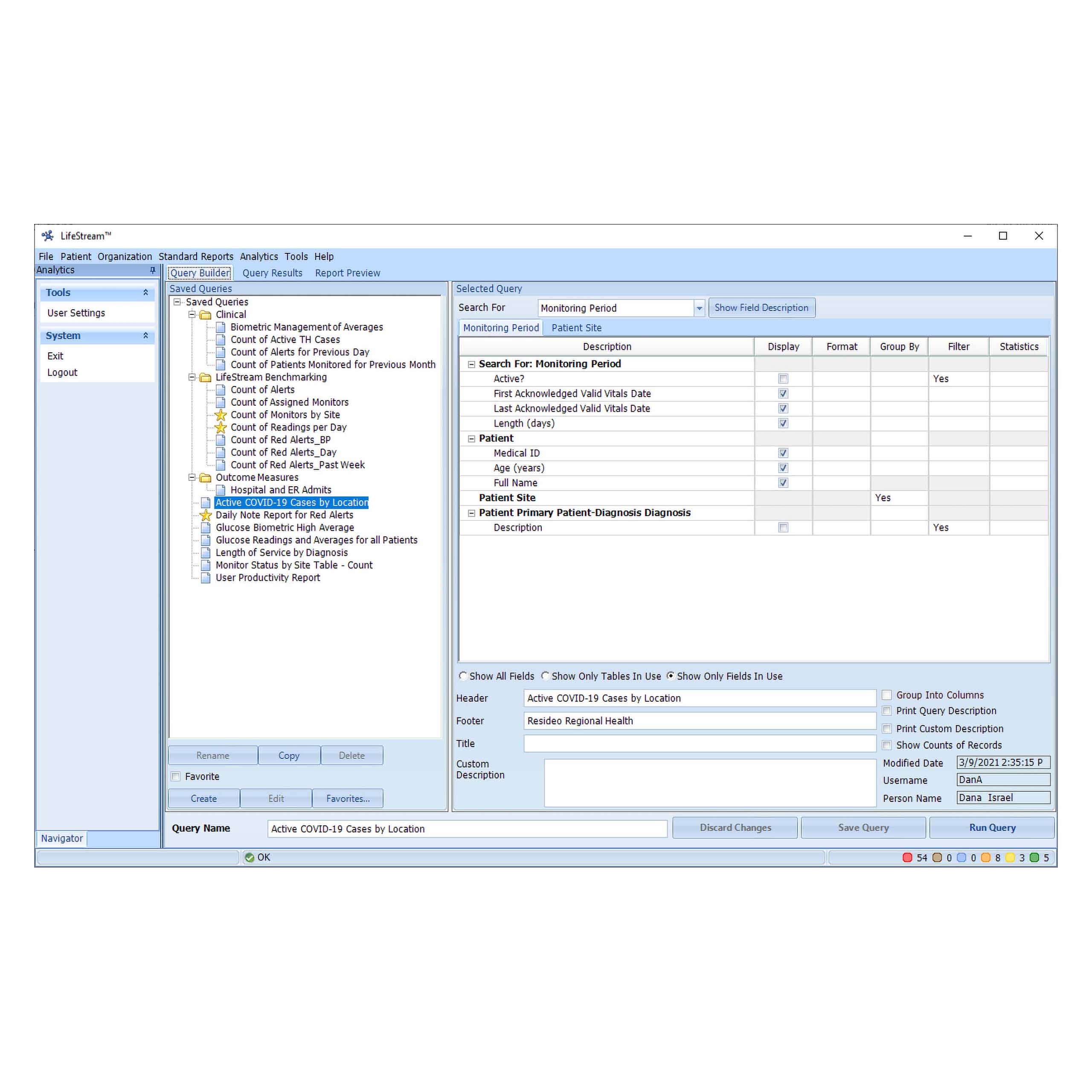 LifeStream Analytics Advanced Reporting Tools
LifeStream Analytics is part of the LifeStream clinical monitoring system designed to deliver smart patient care and help you to improve your outcomes. LifeStream Analytics is a powerful tool that will enable your organization to move beyond standard reporting and launch the full potential of LifeStream.
Specifications
LifeStream Analytics Advanced Reporting Tools
Windows 8.1® (32- or 64-bit with 8.1 update), Windows 10® (32- or 64-bit)
Microsoft .NET framework, version 4.7.2 or higher is required. An updated Microsoft .NET framework installer is bundled with the LifeStream updater, The LifeStream Analytics client has NOT been tested to run on an Apple/Mac computer, Install and maintain current anti-virus software on computers interacting with LifeStream, Processor: 1GHz or faster x86- or x64-bit, Memory: 1GB RAM (32-bit);2GB RAM (64-bit), A monitor screen capable of supporting at least a 1024 x 768 resolution, Hard Drive: At least 1GB available, Peripherals: Mouse and keyboard
Internet: An Internet connection is required, User Access: Windows® client users require read/write/execute permissions to the install folder in order to use the application., System Time: Set the clock on your PC to match the time zone of your workstation location
Product Overview
Easy to use LifeStream Analytics enables your organization to drive productivity, track utilization, optimize clinical workflows, compare outcomes, and provide metrics to identify, track, and improve the impact of your telehealth program.
Evaluate outcomes measuring the success of your program. Explore patient profiles across multiple variables to identify patterns and enhance care. Prioritize patients' clinical needs based on their trends over time. Increase productivity by optimizing staffing and device utilization. Manage larger patient populations with greater efficiency.
Drive efficiencies by tracking device utilization, status and asset management. Optimize clinical staffing based on volume and standardized care across patients reducing variance. Trend data across patient populations and share reports with care providers and insurers.
Access to any data elements stored in LifeStream, query on user-defined parameters and time intervals. Schedule data extractions to run automatically, export into multiple formats for import into 3rd party tools or emailing/faxing/archiving.