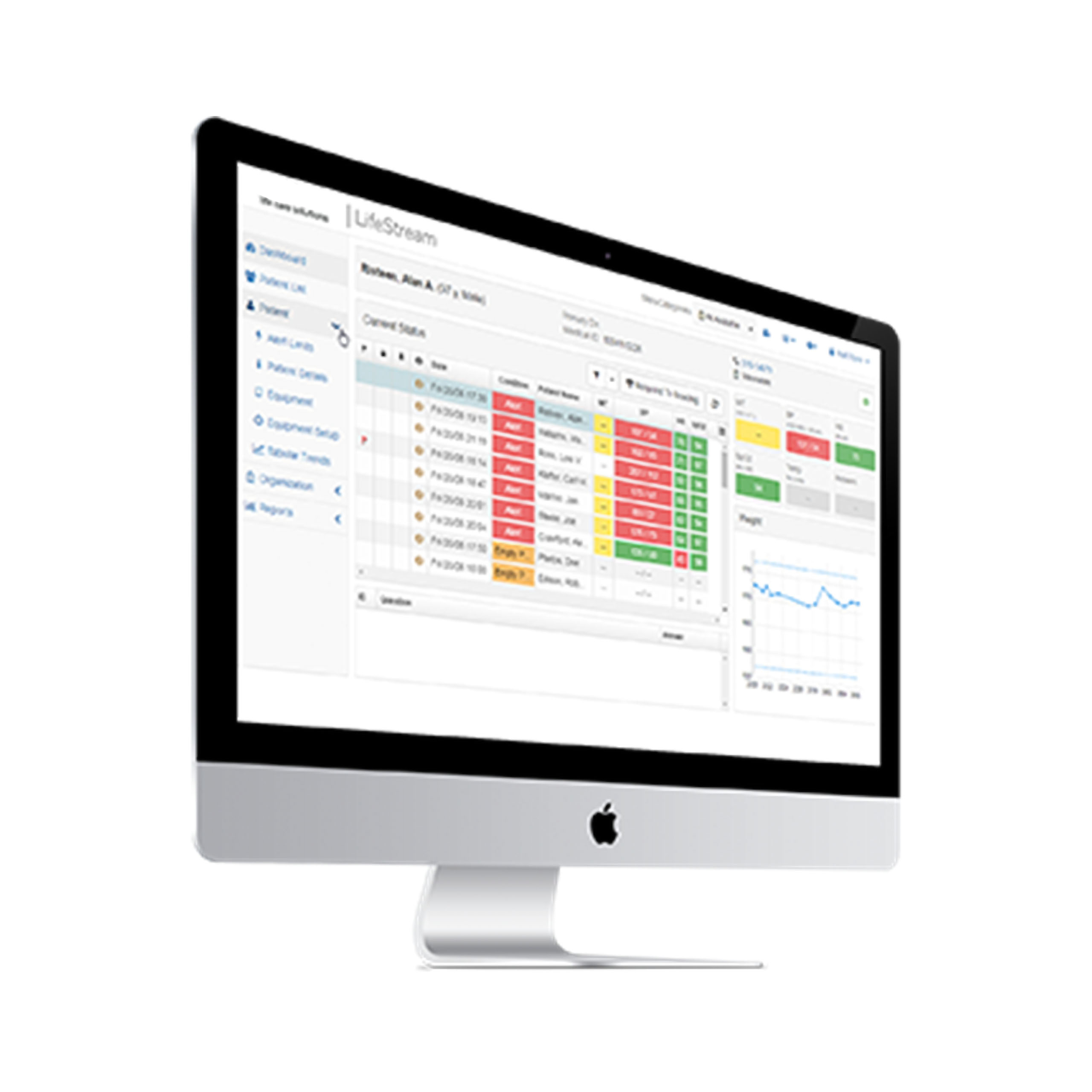 LifeStream Clinical Monitoring Software
4040001A1
LifeStream Clinical Monitoring Software provides robust data needed by care providers to make decisions about patient health. Data sets can include vitals, a variety of responses to pain scale questions, PHQ2 or PHQ9 questionnaire and answers to custom questions. This data, coupled with information from video interactions, enable the clinician to make better decisions.
LifeStream Clinical Monitoring Software Specifications
NIST Approval Certification number 979, FCC Listing ID QIPPHS8-US, Genesis Touch Remote Patient Monitor
Processor: 1GHz or faster x86- or x64-bit, Memory: 1GB RAM 32-bit;2GB RAM 64-bit, Display: A monitor screen capable of supporting at least a 1200 x 768 resolution, Peripherals: Mouse and keyboard, Video: a camera is required when using video
Microsoft Internet Explorer® upgraded to Version 11 or the Microsoft Edge Web browser, with all system updates., Google ChromeTM for Microsoft or Mac upgraded to the most recent stable version, Internet: An Internet connection is required
Product Overview
The LifeStream Clinical Monitoring Software is intuitive and easy to use. As a care provider, you always know where to focus care efforts as you access dashboards, create custom reports and assess alerts from any location. You can assign questionnaires and patient comprehension, making it easy to evaluate and prioritize patients. It is also easy to connect with patients by initiating video visits or using messaging with patients from LifeStream.
Integrated video capabilities allow care providers to initiate and manage video consultations directly from LifeStream.
Bi-directional messaging allows the care provider to schedule video visits and send free text messages to patients enabling more efficient communication.
Patient health questionnaires can be assigned through standard questions or customize questions to monitor behavioral health and other conditions.
Pain levels can be self-assessed with the Wong-Baker FACES® pain scale with alerts to respond to changing pain levels.
The LifeStream library of educational videos helps you coach patients to better manage their health.