In recognition of Women's History Month (March) and International Women's Day 2023 (March 8), Clear Arch Health's Senior Director of Business Development, Jerriene Cordova, offers the following:  an overview of a trip through New Mexico that included a visit with some exceptional women from Ensemble Health, builder of patient-centered, clinically integrated networks focused on senior and post-acute care, assisted living and home-based environments. Through the use of remote patient monitoring (RPM), Ensemble  is able to consistently deliver effective care and reduce hospital admissions and readmission rates. 
March 8th marked International Women's Day 2023.
As I reflect on the meaning of that day, I am grateful to all who acknowledge the women in their lives who build them up and inspire them to grow. During the week of IWD2023, I hit the road and met with some strong, powerful women who excel in their professional lives, and who positively affect others in their communities.
I'd like to share that story here.
For those who don't know, New Mexico is my home state. New Mexicans enjoy exceptional weather, mountains, desert, and food that doesn't exist anywhere else in the U.S. New Mexicans also face inequities every day. Yet, despite the challenges, New Mexicans are bound by an indelible sense of community and culture.

Visiting Ensemble Health in New Mexico
On my first stop though New Mexico, I had the pleasure to have lunch with the team at Ensemble Health. The women I lunched with shared their stories of success, and how much they care for the individual patients they serve. As they shared stories, their faces beamed with memories of patients they coach and support. For them, their work is more than a job: It is their vocation in which they put their passion for caring for others.
"Ensemble builds Clinically Integrated Networks focused on serving senior, post-acute, and home-based patient populations. Our networks are designed to meet the unique needs of our patients, providers, payers and partners by leveraging our passion and experience in this complicated, but ever-important segment of the healthcare continuum."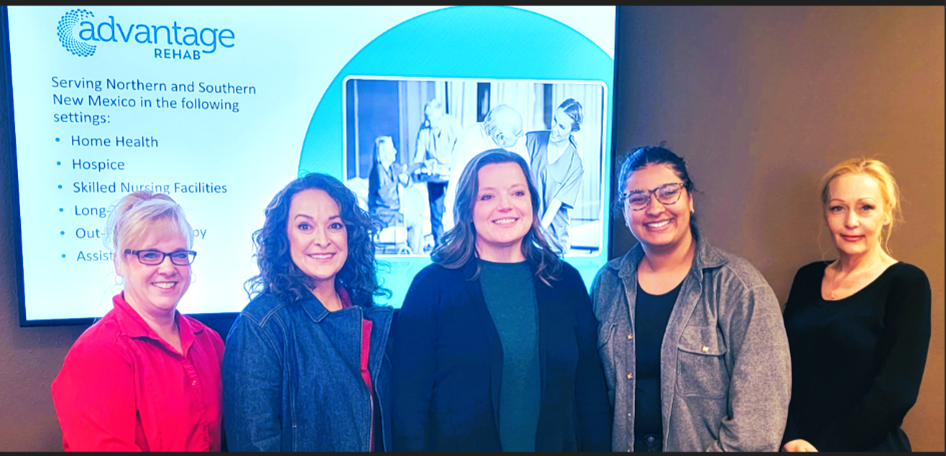 RPM for High-Risk Patient Populations
Ensemble Health has partnered with Clear Arch Health to include Remote Patient Monitoring (RPM) in its digital health strategy and care delivery model. Renee Kohr, the VP of Operations at Ensemble, gave me a tour of their facilities.
I sat down with Renee and Nancy Hernandez, Director of Care Management. We talked about Ensemble Health's case management program which includes patient populations who are at risk of disease progression. Without the support of the Ensemble team, these patients might require frequent hospital stays and/or readmissions.
Dedicated to tracking outcomes, and measuring success in keeping patients stable and in their home environments, the team at Ensemble uses RPM to
obtain patient-specific data
prioritize high-risk patients
assess alerts for appropriate response
quickly intervene when patients experience worsening symptoms
With the actionable insight provided by the RPM platform, the care team can provide effective virtual coaching to reinforce care plans and get patients back on track.
Significant Impact of Virtual Care Delivery
Virtual care delivery through remote patient monitoring requires highly coordinated processes for efficient protocols used by the engagement team. Though patient interactions can be as short as just a few minutes, the overall results are quite significant.
The team at Ensemble knows that its RPM services are highly specialized. The team proactively refines its processes and has developed expertise in delivering care virtually.
While specific numbers were not shared, the team at the table smiled with pride knowing that the remote patient monitoring program (which oversees an average of 250 RPM patients) is delivering reductions in admissions and readmissions for patients with diabetes, hypertension, and other chronic conditions.
The technology partnership between Ensemble Health and Clear Arch Health goes a long way towards helping others within the community. Ensemble additionally partners with payors/payers to care for members, resulting in exceptional outcomes that help patients to live healthier lives, and enables the health plan to contain costs.
~~~
International Women's Day is about celebrating women who inspire.
The women I met at Ensemble are an inspirational team of healthcare leaders whose hard work and dedication to quality care positively impacts their New Mexico community every single day!
I will share more abFout my journey and meetings with incredible women in my next post.
Keep an eye out for more to come.
To learn more about Ensemble Health, please visit www.ensemblehealth.com
---
Discover the Clear Arch Health Difference.
Explore our remote healthcare program and turnkey service options that enhance the delivery of care to create an overall better experience for providers and patients.