Video Connects Care Providers with Patients
NOTE:  In December 2021, Clear Arch Health acquired Life Care Solutions (LCS), a division of Resideo.
Together, our telehealth and Remote Patient Monitoring (RPM) solutions enable daily wireless home health monitoring of at-risk patients facing chronic health conditions. The following article is content from LCS. 
Remote patient monitoring provides care at home and enables care providers to deliver clinical oversight at a distance for at-risk and general patient populations. It plays a vital role in the delivering care in the home when direct contact is contraindicated and minimizing exposure is essential. Patients can be engaged with remote patient monitoring without sacrificing quality care. It is a timely and efficient solution which is essential during times of crisis and as an everyday adjunct to in-person care delivery.
Providers use remote patient monitoring to trend biometric readings, assess symptoms, educate patient and family members and conduct video visits. Patients can be screened prior to accessing a healthcare setting for symptoms that may require further interventions. The LifeStream™ clinical platform allows the care provider to create assessment surveys and questionnaires that can be created to assess for signs and symptoms based on the most up to date information. Patients and caregivers can also be educated and attend personalized video visits to better understand their disease state and to be assessed if they are experiencing concerning symptoms.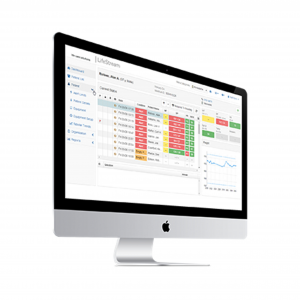 In addition to our LifeStream telehealth solutions, we can support your business with valuable services designed to make telemonitoring more efficient and cost effective:
Direct Ship – Pre-configured tablets and peripheral kits may be shipped directly to patients, with instructions to help get them started taking their first vital signs measurement.
Unlimited 24/7 Support – We offer a constant connection for care providers to quickly troubleshoot telehealth problems and get fast results.
Monitoring Services – Temporarily or permanently ramp up telehealth staff and remote monitoring capabilities during times of increased demand. We will work with you to determine the best procedures and support to meet your needs.
Flexible Subscription-Based Services – Flex your telehealth offering without the costs associated with managing equipment.
Remote patient monitoring can play an essential role in providing access to care for those who need it while maintaining the best practices around social distancing as it relates of COVID-19, and can aid in communicating updated news as new findings emerge.
Most of all, if you are considering telehealth, know that we've helped countless companies implement telehealth monitoring programs, and we're here to help you.
More Links:
To learn more about the Life Care Solutions LifeStream telemonitoring solution, visit this link to request a demo – or give us a call! www.cleararchhealth.com/life-care-solutions/clinical-dashboard/
If you are looking for more information about COVID-19 and the most up to date information please visit the CDC website at: https://www.cdc.gov/.
Over 20 years, organizations with growing telehealth programs frequently report on their ROI and positive health outcomes using our solutions. Consider a case study, and read our white paper about reducing hospital readmissions using RPM and much more.